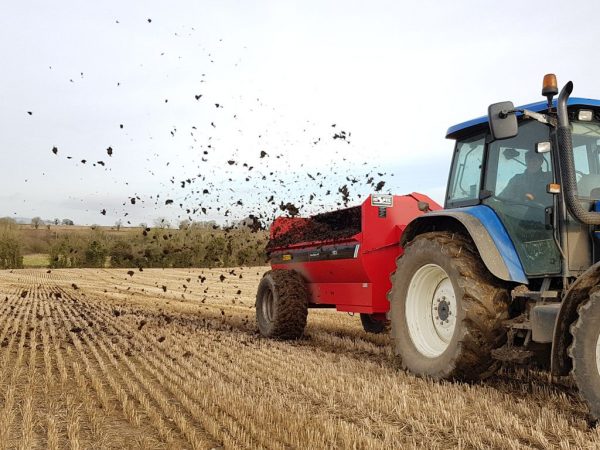 The HiSpec side-spreader range is one of the leading spreaders on the market today. Built with a 5mm fully welded heavy duty barrel, the spreader is capable of handling all types of manure. The side-spreader is available in two sizes, both of which feature a strong fully integrated chassis frame giving maximum support, strength and durability to the barrel. This also reduces stresses on the barrel as the spreader is unloading.
The 3mm hydraulically operated lid ensures that loading is quick and easy. Once loaded, the 168mm diameter rotor with rotate at approximately 230rpm. This speed allows the hardened chains and toughened flail heads to unload the manure in an even consistent spread pattern.
The side spreaders feature a single drive chain with manual tensioning as required. LED road-lights and hydraulic brakes are also provided as standard. Prior to painting in two pack HiSpec red paint, all spreaders are shot-blasted to enable a strong bond with the paintwork. This metal on metal contact ensures an excellent key for the paintwork and that the quality of your spreader remains intact for years to come. The 1000 SS is fitted with a central greasing point as standard, which is an optional extra on the 800 SS to reduce maintenance. Both models are also fitted standard with a non-shear bolt PTO.
The most common choice of tyre for both models is the 550/60-22.5 BKT FL648 flotation tyre as the weight of the spreader is spread over a greater area. The flotation tyre allows the spreader to float over the ground without damage. The special thread design allows for carrying of very high loads at low pressure, guaranteeing reduced soil compaction and preventing damage to soil. If sloped ground is an issue in the fields, then fitting the 21.3 x 24 tractor grip tyre will provide greater grip on those sloped areas.