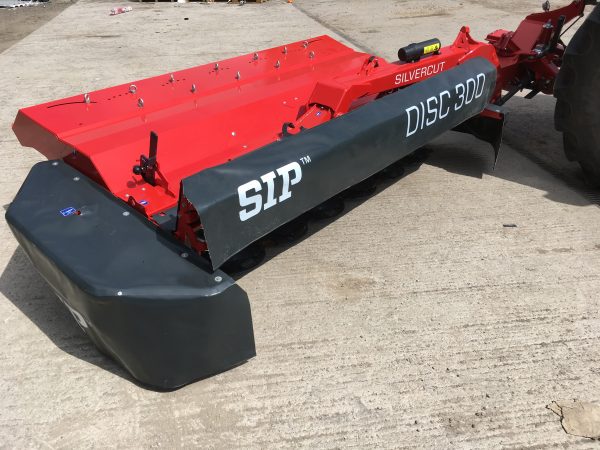 SIP SILVERCUT MOWER CONDITIONERS have a central pivoting cutter bar and conditioner.
They have a continuous hydraulic relief system which ensures effective ground contour following, The main support frame of the tyronehine ensures high rigidity and optimum power transfer from the tractor to the cutter bar.
Perfect ground contour following is the combination
of the arm mounting location and the central pivoting
cutter bar. The maximum angle of adaptation to terrain
is -15° and +20° .
Collision safety device.In the event of a collision with an obstacle the collision safety device is
immediately released. Due to the special position of the hinge, the cutter bar
simultaneously moves backward and upward. After colliding with an obstacle,
the cutter bar automatically returns into the operating position. The sensitivity of the safety mechanism is freely adjustable.
The hydraulic ground pressure relief rate of the cutter bar can
be easily and quickly adjusted before and during mowing.
The relief rate is visible on the manometer.
The drive is connected to the first disc by the PTO shaft, an
angle gear and a double universal joint.Discs rotating in pairs ensure a quick and efficient forage flow
over the cutter bar.
Support legs for storage (optional) save space around the
tyronehine. The mower is upright and takes up to 3,2m2.
In the transport position, the mower is tilted 120° degrees ensuring:
• a transport height which enables driving through low passages,
• better visibility during transport,
• better stability during transport and thus a higher transport speed,
• the centre of gravity of the tyronehine is closer to the centre
of gravity of the tractor.
Paired disc rotation direction
Quick and efficient feed discharge
The specially designed discs ensure a quick and
efficient forage flow even when mowing downhill.
For more information on the whole SIP range please visit
http://www.sip.si/home
Product Images:
STANDARD :
QCS (quick blade change system) with QCS tool    
Shear safety pins                                                            
Foldable protective curtains against flying debris  
Spare blades                                                                    
PTO shaft                                                                         
OPTIONAL :
Topping skid, 7–10 cm                                      
Gearbox for 540 rpm, in lieu of 1000 rpm    
Disc extension                                                     
Road safety & Lighting equipment                 
Curtain protection rail                                       
Mower stand                                                        
Additional swath board, LH and RH              
Three point hitch height limitation                
Additional swath board extension